Chiropractic Care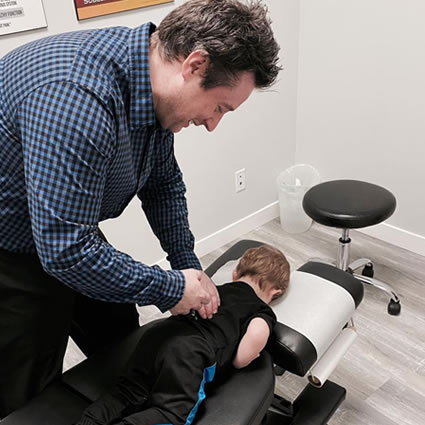 Chiropractic is holistic, function-based care. It's a manual therapy with a focus on the natural wellbeing and optimal health of our patients. Working with your whole body, we will find the root cause of your pain. Making chiropractic care a part of your life may impact your overall health, vitality and well-being.
Your body is a magnificent, self-healing machine but, like any machine, it sometimes needs repair. Whether from injury, stress or everyday wear and tear, the body can get knocked off kilter. In some cases, the cause is not readily apparent. That's where chiropractic care comes into play.
Restoring Balance with Focused Care
Your Central Nervous System controls the body; keeping it safe and healthy is crucial. Your neural, muscular and skeletal systems are all interconnected. Structure affects function; if there's an imbalance in these systems, if can affect your entire body.
When this occurs, it can be difficult to see what needs correction. By working with your nervous and musculoskeletal systems, we ensure the body, and its associated structures, are functioning at an optimal level.
By locating the real cause of your condition, we're able to apply various therapies to correct the problem and allow the body to heal itself.
Some conditions our patients have seen improved with focused care are:
Neck pain
Back pain
Shoulder pain
Knee/hip pain
Sprain/strain
Our Techniques
Dr. Faught has studied and mastered a number of chiropractic techniques to provide optimum care for people of all ages.
To meet your specific health needs, these include:
This is the most commonly used adjustment technique by chiropractors. Its objective is to restore proper movement and alignment of spine and joint dysfunction. This form consists of a short, fast force applied to specific joints to instill motion, stretch surrounding muscles, and stimulate the nervous system.
Diversified adjustments use a specific line of manual thrust that goes deep into the joint. This corrects mechanical distortions of the spine or joint within the joint cavity. It also stretches the soft tissue which may have formed around the misaligned joint.
By adjusting the spine or joint, and thrusting it into its proper position, the fluids and tissue can move more freely. When they are distributed properly within the joint, pain and discomfort may be reduced.
This technique is one of the most popular "low force" approaches to chiropractic in the world. We use a tool called The Activator Methods® Adjusting Instrument. It is a handheld spring-loaded tool that delivers a consistent low-force, high-speed thrust. This is extremely beneficial for elbows, wrists, knees, and other joints of the body. It's so gentle, elderly people may receive great benefit from its use.
Whole body care requires synchrony between the nervous system and the mechanical control system of the body. Subluxations of any joint have both neurological and mechanical components.
Many patients suffer repeat subluxations and nerve entrapments because the mechanical component is ignored. As a result, root causes go undiscovered and untreated. The goal of extremity adjusting is to diagnose and treat these injuries using both neurological and mechanical treatments.
Mechanoreceptors are embedded in the tissues surrounding joints. When these tissues get stretched by a joint misalignment, it creates an inhibition or weakening of the adjacent muscle. Discovering these weak muscles and correcting the misaligned joint is a specialty of this technique. Once done, normal strength is restored.
If there is a specific technique that you enjoy, please make us aware of it so that we can deliver the type of results that you DESERVE!

Chiropractic Care | (705) 222-4097