Laser Therapy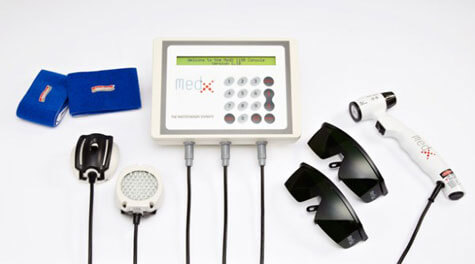 Inflammation in the muscles and tissues of your body can cause pain and discomfort.
Light has been considered a natural, healing source of energy for thousands of years. Laser therapy, also known as photobiomodulation, has been in use for over 40 years. Used to treat soft tissue conditions, it helps to gently control pain and swelling in those areas.
Chiropractic utilizes several modalities to reduce pain and inflammation. Dr. Faught may include Laser therapy as part of your care plan. With many applications, laser therapy is an important tool when used in conjunction with chiropractic care.
When your body needs help to get inflammation and swelling under control, laser therapy may be beneficial. Whether it's for sore shoulders, elbows, knees or other musculoskeletal issues, laser therapy is a gentle and effective way to quickly reduce swelling.
Using specific wavelengths of light, laser therapy penetrates deeply, allowing energy to penetrate deep within the cells in a short amount of time. Once this energy has been absorbed by the cell, it can be used in a variety of ways. This light energy can be used by all cell types including nerves, muscles, cartilage, and ligaments.
ATP is the energy-carrying molecule found in the cells of all living things. When energy is needed for a task, ATP moves it where needed and releases it. Laser therapy helps increase ATP production to provide injured cells with the energy they need to heal.
A pain-free application, it may be used to reduce joint swelling to help make the chiropractic adjustment easier to do and hold longer. Laser therapy has many benefits with few, if any, side effects.
The benefits of laser therapy are many. It may promote faster healing, reduce pain and inflammation, relax muscle spasms and increase blood circulation. Even after you leave our office, the effects of your laser therapy session continue on a cellular level to improve your musculoskeletal health.
Some patients prefer laser therapy instead of acupuncture. It is just as precise, but no needles are necessary. Depending on the nature of your condition, improvement may be seen in as few as 3-4 sessions. The more chronic your condition, the more sessions you will require to obtain optimal healing.
Conditions that may benefit from Laser Therapy include:

Sprains/strains
Soft tissue injuries
Carpal Tunnel Syndrome
Plantar Fasciitis
Tendinitis
Shoulder, back and knee pain
Arthritis
Learn More Today
Laser therapy has been in use in Europe almost 50 years. During that time, many advances have been made, and it is now utilized worldwide. A natural way to heal a diverse group of injuries with accepted results. What's stopping you from getting the relief you need now?
Contact us for an appointment; you'll feel the difference Laser Therapy can make for you. Call now, don't wait another moment.
CONTACT US

Laser Therapy in Sudbury ON | (705) 222-4097